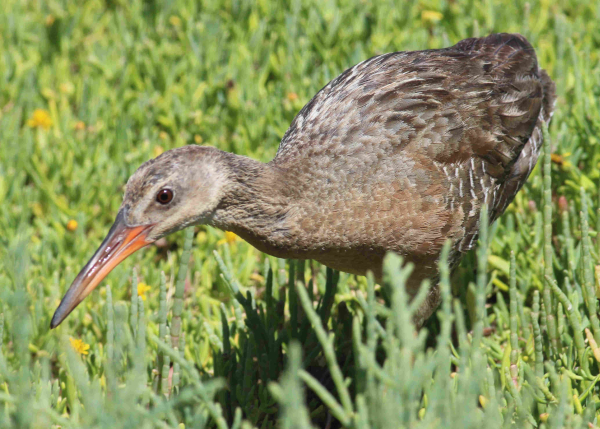 Stealth and intense but measured pursuit best describe a Ridgway's Rail in pursuit of favored prey, a small crab.

Most rails are elusive, rarely encountered sleuths of tall vegetation in marshes, swamps and coastal estuaries. As a birder, they are hard to find; as a birding photographer, they are nearly impossible to find. So it went for a few decades, until one of my favorite photo locations in coastal California became something of a hotspot for finding and photographing rails. It was quite a thrill for me to see and photograph the first one in close quarters, and that excitement hasn't subsided.
Suddenly, the endangered Light-footed Clapper Rails became pretty common photo prizes along the boardwalk at Bolsa Chica Wetlands on the north edge of Huntington Beach, California. In the meantime, ornithologists even changed the species' name to Ridgway's Rails, making them even more impressive in my mind – after all, they were elevated from a subspecies to a full species!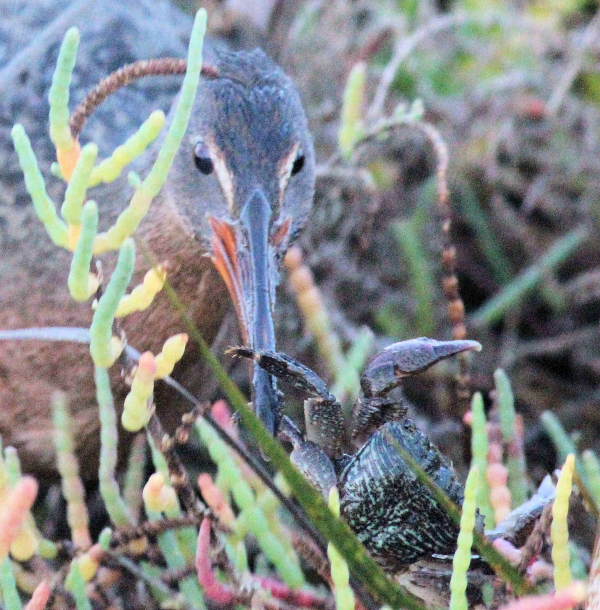 Grabbed, and on high alert, the predator's gaze and the crab's reaction are evident during a moment of face-off.

Photographing Ridgway's Rails is interesting, and often exciting. At least at Bolsa Chica, the rails are not very shy or concerned by passing people; they appear to be singularly keen on searching for, catching, and eating small crabs. But that means the rails rarely, if ever, stopped for me to photograph them. I mostly needed to keep up with an individual's movements in and out of vegetation, in and out of light, plying the water's edge and wading through vegetated shallows, all while trying to keep low – closer to the rail's level – while trying to get sharp photos as the stealthy rail continued searching for crabs.
It's always fun to get to know a new species, and to photograph individuals at the same time. It's not the first species I would normally be attracted to in a location loaded with ducks, egrets, herons, terns, skimmers, gulls, pelicans, sandpipers, plovers, some raptors and a few passerines – but they were new, and elusive, and interesting, so how could I resist.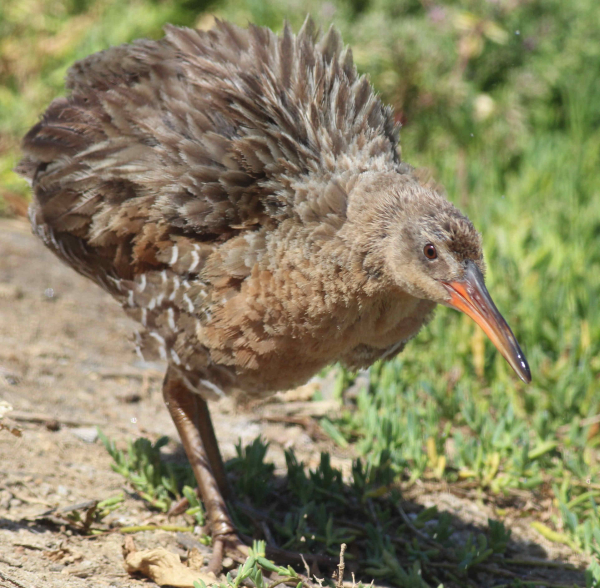 Out of hunting mode, a Ridgway Rail ruffles its feathers.

Article and photographs by Paul Konrad
Share your bird photographs and birding experiences at editorstbw2@gmail.com
(Permalink)
Feb. 21 - Feb. 23

Eagle Expo and More

Morgan City, Louisiana

Feb. 21 - Feb. 24

Whooping Crane Festival

Port Aransas, Texas

Feb. 23

California Duck Days

Davis, California

Feb. 23

Burrowing Owl Festival

Cape Coral, Florida

Feb. 27 - Mar. 1

Cape Ann Winter Birding Weekend

Gloucester, Massachusetts

Feb. 27 - Mar. 3

San Diego Bird Festival

San Diego, California

Mar. 1 - Mar. 2

Marsh Madness Sandhill Crane Festival

Lincoln, Indiana

Mar. 8 - Mar. 10

Monte Vista Crane Festival

Monte Vista, Colorado

Mar. 8 - Mar. 10

Vallarta Bird and Nature Festival

Puerto Vallarta, Mexico

Mar. 8 - Mar. 10

Waterfowl Weekend Festival

Brighton, Ontario

Mar. 15 - Mar. 17

Wings Over Water Northwest Birding Festival

Blaine, Washington

Mar. 21 - Mar. 24

Audubon's Nebraska Crane Festival

Kearney, Nebraska

Mar. 22 - Mar. 24

Othello Sandhill Crane Festival

Othello, Washington

Apr. 1 - Apr. 3

Celebration of Swans

Whitehorse, Yukon

Apr. 5 - Apr. 7

Mackinaw Raptor Fest

Mackinaw City, Michigan

Apr. 5 - Apr. 8

Great Louisiana BirdFest

Mandeville, Louisiana

Apr. 10 - Apr. 17

Lesser Prairie Chicken Festival

Woodward, Oklahoma

Apr. 11 - Apr. 14

Galveston FeatherFest Birding Festival

Galveston Island, Texas

Apr. 11 - Apr. 14

Harney County Migratory Bird Festival

Burns, Oregon

Apr. 12 - Apr. 14

Olympic Bird Festival

Sequim, Washington

Apr. 12 - Apr. 14

Nebraska Prairie Chicken Festival

Burwell, Nebraska

Apr. 13 - Apr. 14

Atlanta Bird Fest

Atlanta, Georgia

Apr. 17 - Apr. 23

Godwit Days Spring Migration Bird Festival

Arcata, California

Apr. 24 - Apr. 27

Spring Chirp

Weslaco, Texas

Apr. 24 - Apr. 28

Birdiest Festival in America

Corpus Christi, Texas

Apr. 25 - Apr. 27

Great Dismal Swamp Birding Festival

Suffolk, Virginia

Apr. 25 - Apr. 28

Stikine River Birding Festival

Wrangell, Alaska

Apr. 25 - Apr. 28

Verde Valley Birding and Nature Festival

Cottonwood, Arizona

Apr. 25 - Apr. 28

Balcones Songbird Festival

Marble Falls, Texas

Apr. 26 - Apr. 28

Verde Valley Birding and Nature Festival

Point Reyes Station, California

Apr. 26 - Apr. 28

Hatchie BirdFest

Brownsville, Tennessee

Apr. 26 - Apr. 28

Birds of the Hill

South Bloomingville, Ohio

Apr. 26 - Apr. 29

Spring Delmarva Birding Weekend

Del Marva Peninsula, Maryland

Apr. 27

Thornapple Woodpecker Festival

Middleville, Michigan

Apr. 27 - Apr. 28

Migration Celebration

Brazoria, Texas

Apr. 27 - Apr. 28

Spring Fling at Whitefish Point

Paradise, Michigan