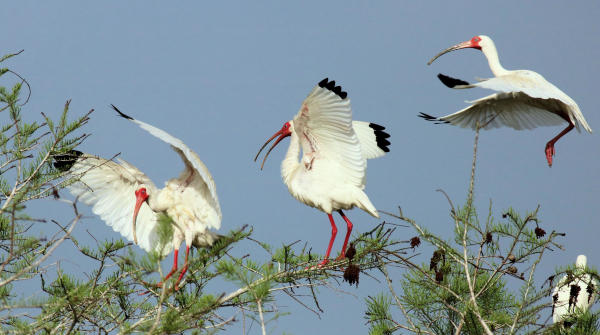 In the vast Everglades, wading birds are most abundant, including White Ibis.
Are you ready for a warm-weather birding adventure this winter? Any trip into the Everglades is a true birding adventure! At the same time, the Everglades are fairly accessible, especially from the Miami side. A paved road leads you from the west side of Miami through the vibrant Everglades wilderness protected by Everglades National Park at the south end of Florida. Water conditions and the season will dictate the variety and abundance of birds, but any day in the Everglades is a great day for birding!
Many of the birds people expect to see are the usually abundant diversity of wading birds, including such exciting species as Roseate Spoonbills, Wood Storks, White Ibis, Glossy Ibis, Tricolored Herons, Little Blue Herons, Green Herons, Reddish Egrets and three species of white egrets – Snowy, Great and Cattle Egrets.
Keep in mind, though, that Little Blue Herons and Reddish Egrets also have white-morph individuals. And be sure to take a second look at the Great Egrets and Great Blue Herons you see in South Florida, for there is an interesting white color morph of Great Blues that resemble Great Egrets, but these individuals can best be separated by their yellow legs and larger size. Another color-morph of Great Blues have an obvious white head and neck, and are often referred to as "Wurdemann's" Great Blue Herons.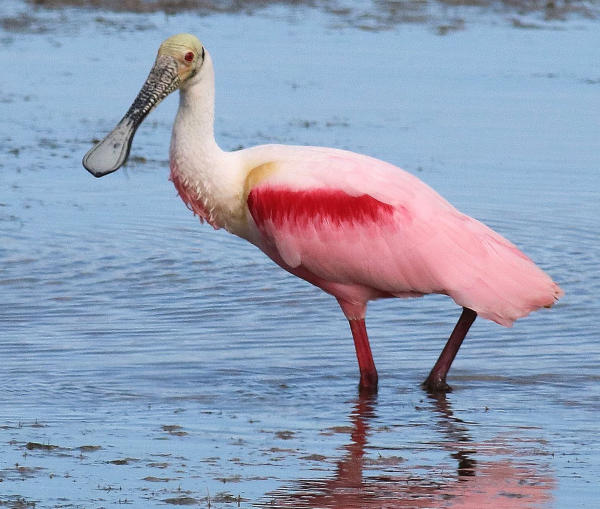 Roseate Spoonbills are among the most colorful birds in the Everglades, and among the most unusual.
Anhingas and Double-crested Cormorants are more aquatic in their habitat preferences, but not all Everglades birds are associated with water. Many impressive birds inhabit the wooded islands and uplands in the region, including Barred Owls, Red-bellied and Pileated Woodpeckers, Red-shouldered Hawks, White-crowned Pigeons, Laughing Gulls, Fish Crows, Black Vultures and, in season, many colorful neotropical songbirds.
Many birds migrate in and out of the Everglades ecosystem, and my favorite Everglades migrants are Swallow-tailed Kites. If you visit the Everglades today, you have no chance of seeing one, but if you plan your visit for mid-March and thereafter during spring and summer, you should have fine opportunities to see these graceful birds in action. You may see them on a gliding hunt for tree frogs, catching dragonflies in mid-air, collecting nesting material, or simply flying in their gliding, kiting flights.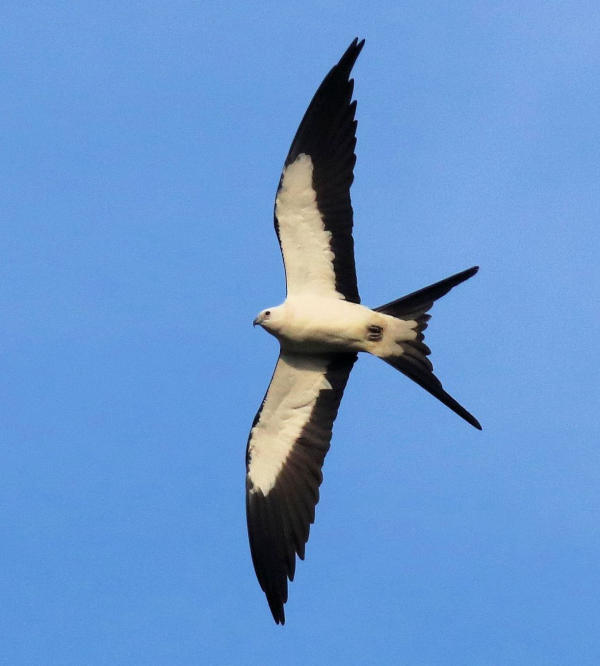 One of many neotropical migrants, Swallow-tailed Kites are among Florida's most graceful birds of prey.
My favorite time among birds in the Everglades was when I timed my trip to coincide with the arrival of migrating Swallow-tailed Kites in late March. The first couple days provided great observations of Swallow-tails in flight and hunting, and feeding on the wing. But after reviewing my photos, I felt I needed to return for another kite photo session. The next morning looked promising with ample sunlight and scattered kites, but about 10:00 I witnessed and photographed a continuous flight of Swallow-tailed Kites that appeared to be making landfall on the south side of the Everglades, probably making first American landfall after a morning migration flight.
During the next two hours, the kites glided above tree-lined streams into the morning wind, sometimes with as many as 10 Swallow-tails in sight at once. Mosquitos were a factor, but I certainly made the most of the opportunity as more than 200 Swallow-tailed Kites funneled through the area. I stationed myself to take advantage of the best light and kite flights – and what fun I had!
Another species of kites, the rare Snail Kites, which were once known as Everglades Kites, can be seen in the Everglades ecosystem, although they tend to be more likely to be found along Alligator Alley, also known as the Tamiami Trail or Highway 41, which bisects the Everglades east-west through the north side of the national park. Also, keep an eye peeled for a soaring Short-tailed Hawk, a hard to find raptor; and watch for an occasional Magnificent Frigatebird soaring overhead, especially along the south coast of the Everglades.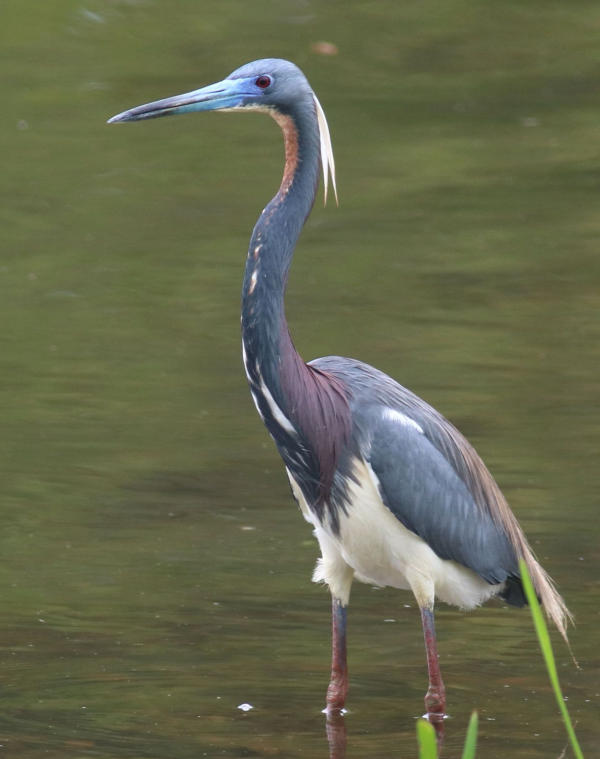 During late winter and early spring, the facial skin of many adult wading birds, such as this Tricolored Heron, becomes more colorful and they grow plumes used in courtship displays.
To get to the Everglades, it's easy to fly into Miami and rent a car and be in the heart of the national park within a couple hours – maybe less. There are a variety of hotels a short distance from the Everglades entrance gate near the Miami suburb of Homestead. Take food and drinks, preferably in a cooler full of ice, with your favorite hat and plenty of sunscreen and insect repellant in addition to your regular birding equipment. As I write this, many national park services are not functioning due to a government shutdown, but we hope this disappointing situation is remedied quickly.
Wading birds and other species are most colorful during late winter and early spring when they are nesting in the region, so that's a consideration when timing your trip. Migrating neotropical songbirds and flycatchers will arrive in waves throughout May, but as I noted before, any day in the Everglades is a great day for birding!
Article and photographs by Paul Konrad
Share your birding experiences anytime at editors2tbw@gmail.com
(Permalink)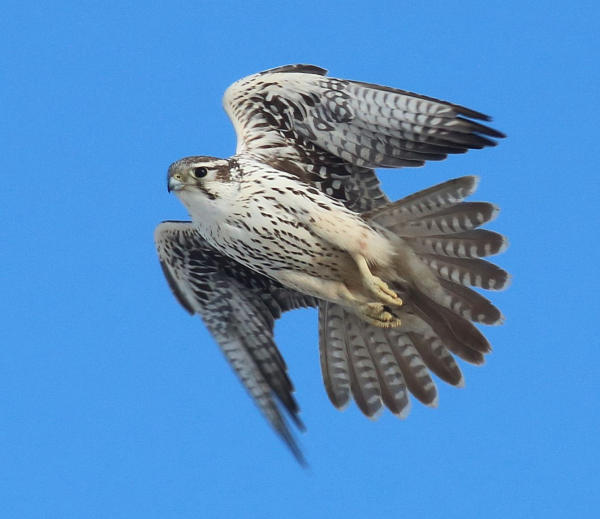 Among the many photos Paul shares on his website, he shares a few favorite photos here, including a spectacular Prairie Falcon in flight …
We bird photographers enjoy our searches for birds to photograph, and our attempts to get quality photographs of interesting birds. It eventually drives some of us. Formerly, and today, we enjoy printing our best or favorite photographs as standard prints and enlargements. We enlarge and frame the best of the best and share them in our home, office and, maybe, at a social gathering – at a bird club meeting, an Audubon event, or even a flea market or street fair.
During this century, the internet and social media has become a preferred option for sharing photographs. I'm noted for attaching a bird photo to most emails I send; it's my way of making my communications more personal – and the photos are much appreciated I'm told. I have extended that practice to many of my text messages too, or I attach a photo to at least one text in a series with the same person. Sharing my photos in this way is fun and rewarding and it adds a personal touch.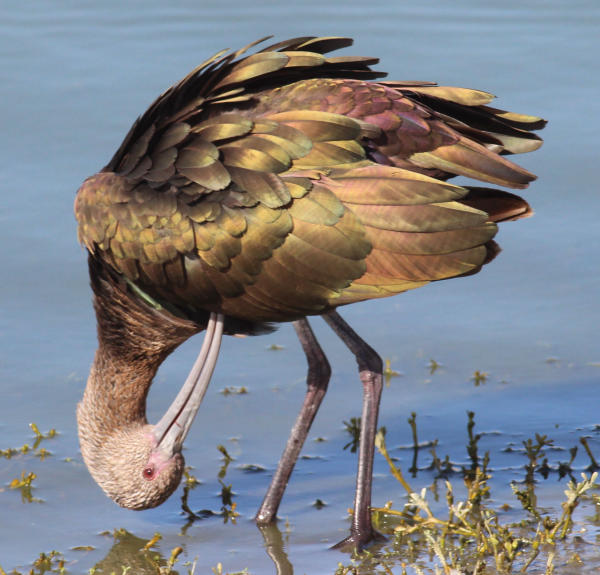 … an iridescent White-faced Ibis in an unusual preening pose …
I also have a couple large groups of friends and associates who I periodically share photos with stories from the field. However, these days my communications of this kind tend to make their way directly to the pages of The Birding Wire, which extends my photo sharing to a much larger birding community of tens of thousands. During the 1990s, I shared my bird photography and travel experiences with about half a million readers each month in the largest birding magazine ever – now that's mega-sharing.
Many bird photographers share their photos on Facebook, which is a good option for sharing your interests and images via social media. Some photographers have a separate Facebook account to share their images and show their stuff and, in some cases, promote selling images. That's undoubtedly a fine way of sharing and marketing. Although I have not been a Facebook fan, that's probably not been a good decision professionally.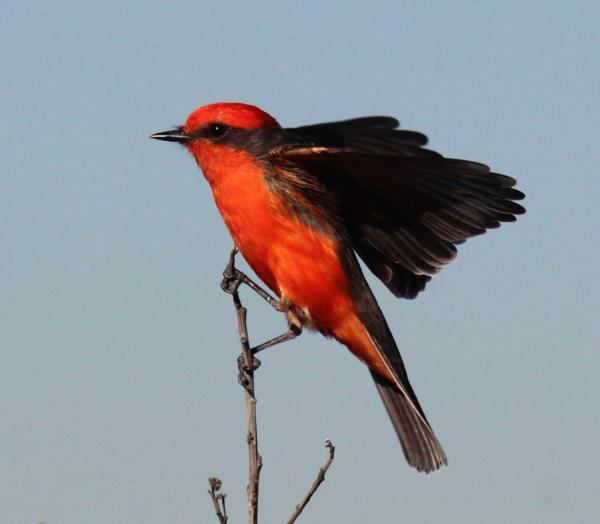 … a brilliant Vermillion Flycatcher in action landing …
Flickr is another photo sharing and storage option that many photographers like, and to a lesser extent, you can share photos via Twitter, Instagram, Snapchat and some other social media groups including podcasts. Some of these options seem to come and go, or vary in popularity over the years, but that's true for many communications platforms and businesses.
Personally, I have preferred to operate my own website that offers many more design opportunities and options, which I find important as I share a small portion of my many favorite photographs. I initiated my website – www.WilldifeAdventures.biz– almost 20 years ago, so you can actually see my steady improvement as a wildlife photographer during that extended period. Today I emphasize action photographs over portraits and, if you visit the website, you will also see a more extended collection of wildlife photos that includes mostly birds, but many mammals, a few reptiles, and even a page of diverse people of the world.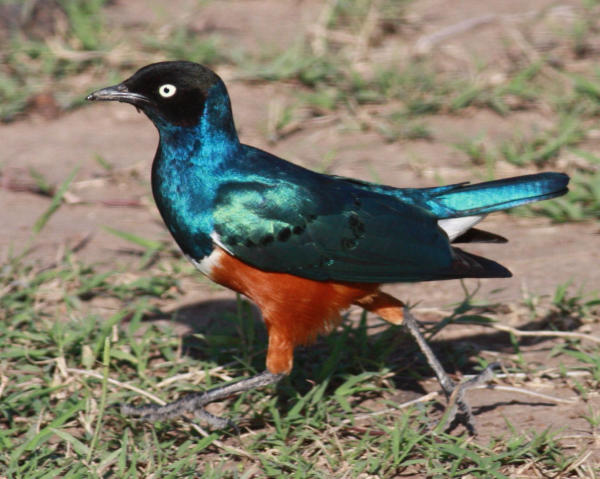 … and a truly Superb Starling (in southern Kenya).
There's an assortment of website hosting companies you can check out and learn more about starting your own website, including Yahoo, GoDaddy, HostGator, SiteBuilder, BlueHost, iPage, JustHost and many more. I can only speak first-hand about Yahoo's small business website hosting services, and aside from paying $9 per month (ha-ha, that's only 30 cents per day), that includes my email service and it's been a pretty smooth partnership over the decades. I think a personal website is the best option for sharing photos with a large media audience, and it helps to give me a presence I can also refer professional contacts to review.
There is one more way you can share your bird photos with a larger birding community: You can send your best or favorite photos to the The Birding Wire. We would be interested in seeing your fine photos as your bird photography progresses, and when you have an interesting photo experience to share. Overall, be proud of your bird photography accomplishments, keep up the good work, and share your favorite photos in all the ways that bring you a little more joy through your birding experiences.
Article and photographs by Paul Konrad
Share your bird photographs and birding photo experiences at editorstbw2@gmail.com
(Permalink)
Jan. 17 - Jan. 19

Wings Over Willcox

Willcox, Arizona

Jan. 17 - Jan. 21

Everglades Birding Festival

Davie, Florida

Jan. 17 - Jan. 21

North Shore Birding Festival

Mount Dora, Florida

Jan. 18 - Jan. 21

Morro Bay Winter Bird Festival

Morro Bay, California

Jan. 18 - Jan. 21

Wings of Winter Birding Festival

Springville, Tennessee

Jan. 19

Rains County Eagle Fest

Emory, Texas

Jan. 19 - Jan. 21

Tennessee Sandhill Crane Festival

Birchwood, Tennessee

Jan. 23 - Jan. 27

Snow Goose Festival of the Pacific Flyway

Chico, California

Jan. 23 - Jan. 28

Space Coast Birding & Wildlife Festival

Titusville, Florida

Jan. 25 - Jan. 27

Winter Wildlife Festival

Virginia Beach, Virginia

Jan. 25 - Jan. 27

Winter Delmarva Birding Weekend

Del Marva Peninsula, Maryland

Jan. 26

Monroe Lake Bald Eagle Driving Tour

Bloomington, Indiana

Feb. 2

Galt Winter Bird Festival

Galt, California

Feb. 6 - Feb. 9

Laredo Birding Festival

Laredo, Texas

Feb. 7 - Feb. 10

The High Plains Snow Goose & Heritage History Festival

Lamar, Colorado

Feb. 8 - Feb. 10

Birds of a Feather Fest

Palm Coast, Florida

Feb. 14 - Feb. 17

Winter Wings Festival

Klamath Falls, Oregon

Feb. 15 - Feb. 17

Matagorda Bay Birdfest

Palacios, Texas

Feb. 15 - Feb. 17

Sax Zim Bog Birding Festival

Meadowlands, Minnesota

Feb. 15 - Feb. 18

Great Backyard Bird Count

Your Yard!

Feb. 21 - Feb. 23

Eagle Expo and More

Morgan City, Louisiana

Feb. 21 - Feb. 24

Whooping Crane Festival

Port Aransas, Texas

Feb. 23

California Duck Days

Davis, California

Feb. 23

Burrowing Owl Festival

Cape Coral, Florida

Feb. 27 - Mar. 1

Cape Ann Winter Birding Weekend

Gloucester, Massachusetts

Feb. 27 - Mar. 3

San Diego Bird Festival

San Diego, California

Mar. 1 - Mar. 2

Marsh Madness Sandhill Crane Festival

Lincoln, Indiana

Mar. 8 - Mar. 10

Monte Vista Crane Festival

Monte Vista, Colorado

Mar. 8 - Mar. 10

Vallarta Bird and Nature Festival

Puerto Vallarta, Mexico

Mar. 15 - Mar. 17

Wings Over Water Northwest Birding Festival

Blaine, Washington

Mar. 21 - Mar. 24

Audubon's Nebraska Crane Festival

Kearney, Nebraska

Mar. 22 - Mar. 24

Othello Sandhill Crane Festival

Othello, Washington

Apr. 1 - Apr. 3

Celebration of Swans

Whitehorse, Yukon