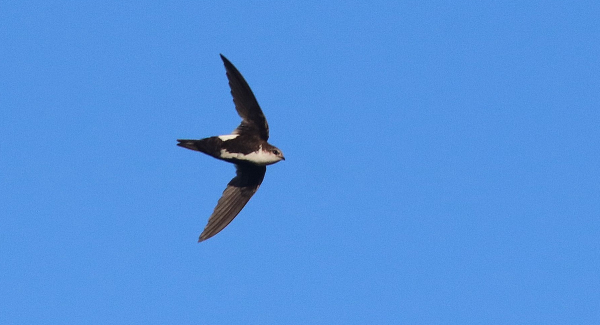 A selection of varied images of White-throated Swifts in flight follows.
Swifts are speeding, twisting, acrobatic, tiny gliding dynamos and strong fliers with long stream-lined wings and a small compact body with almost no weight. We often think of Peregrine Falcons as the ultimate flying birds, but swifts are fitting challengers for such a trophy. But the real trophy may go to the photographers who can show the actions of these remarkable, often overlooked birds. Photographing swifts is not easy, and it's rarely immediately fruitful – but it sure is fun trying!
Depending on your location, in season you are most likely to encounter Chimney Swifts, Vaux's Swifts, or White-throated Swifts. My favorites are the White-throated Swifts that inhabit the vast region west of the Rocky Mountains that can be found throughout the year in western and southern California. Swifts are social and they roost and nest in colonies. The true beauty of swifts is in their flights, and it's especially fun to watch their movements as they ply the wind.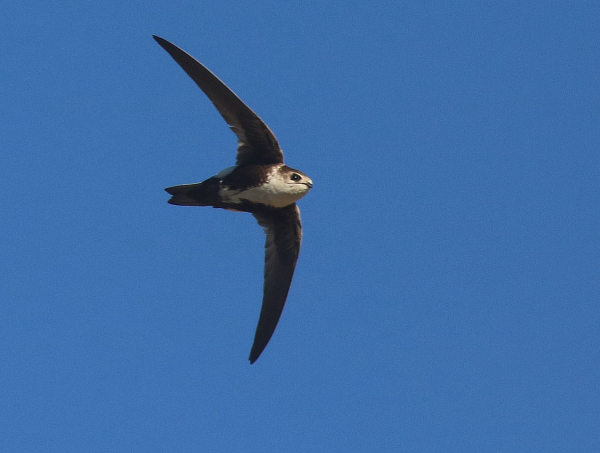 As much time as I've spent in the range of White-throated Swifts, I've seen many in a variety of habitats – mountains, deserts, wetlands, and urban areas – but it's tough to get into position to photograph them, especially at close quarters. In retrospect, the best photo opportunities I've had were when the swifts came to me. Two excellent photo opportunities stand out, and in each case I was birding, camera in hand. The first instance happened while I was walking through a wetland area along a river basin that led to the ocean, but surrounded by suburbia; the other photo interaction was in a wilderness area with an opening along a wooded mountain top.
In both locations, the situation was similar, the swifts suddenly overtook the low airspace above and around me, and I did what comes naturally: I tried to photograph their fast gliding twisting turning flights. Zip, zip, swish, zoom, they dived by in ones and twos and more! In the first couple moments it was obvious this was a real photo challenge. There was plenty of sunlight in the clear blue sky, so I set my shutter speed at about 1/2000 of a second to stop the action, and I was happy to see that gave me an f-stop of f8, which would provide a wide enough field of focus to keep the fast-moving swifts in focus – sometimes.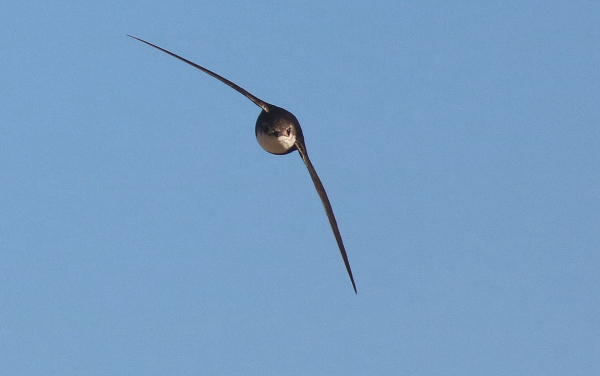 So with the sun at my back, I waited for individual swifts to cross in front of me, or stream past me head-on. The key to photographing swifts while they are feeding in acrobatic flights is to do your best to try to keep them in your camera frame, follow their flights as best you can, rely on your auto-focus (which you will find is constantly zooming in and out in search of a swift to focus on); and when you think it all gels, take a photo or two or three. You soon appreciate that swift photography is not a simple, or exacting effort. It's not like you can focus on a swift's eye as it zips by. You will quickly realize you need to take many photos, then rely on editing the resulting photos to pick out the best images. In the meantime, enjoy the excitement of the fast action, go with the flow, photograph fast and furiously, and have fun in the process.
As wildlife photographers, we like to think we can make each photo count, but you experience a whole different impression of that idea when photographing swifts. The same is true for photographing flying swallows and similar fast-flying small birds – but that's an enjoyable part of bird photography – a challenge; and if at first you don't succeed, keep trying; and if you enjoy some success, keep trying, 'cuz it's great fun and good practice.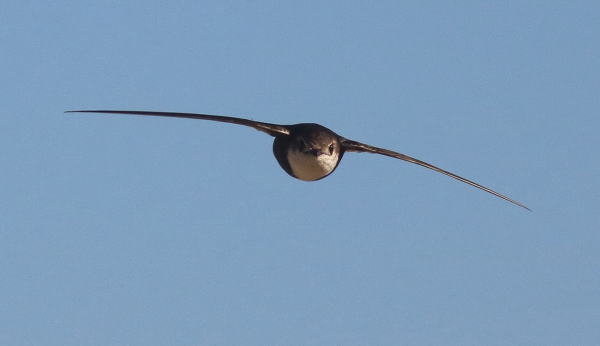 I have tried one other photo option with White-throated Swifts, which was to visit a nesting colony under a tall bridge, but I didn't have very good luck photographing under those circumstances. With concern about not getting too close to the nest cavities, or concerning the swifts as they flew to and from nest sites, I took many photos during a few visits but the swifts were never really near enough, or I missed them during their closer flights. Such are the whims of fast-paced swift photography, so when you do get some signature photographs, you can be proud of your images and the tenacity and patience required to get them. You will also appreciate the luck involved, and the remarkable flights of these impressive birds – The Swifts!
Article and photographs by Paul Konrad
Share your bird photographs and birding experiences at editorstbw2@gmail.com
(Permalink)
Mar. 21 - Mar. 24

Audubon's Nebraska Crane Festival

Kearney, Nebraska

Mar. 22 - Mar. 24

Othello Sandhill Crane Festival

Othello, Washington

Apr. 1 - Apr. 3

Celebration of Swans

Whitehorse, Yukon

Apr. 5 - Apr. 7

Mackinaw Raptor Fest

Mackinaw City, Michigan

Apr. 5 - Apr. 8

Great Louisiana BirdFest

Mandeville, Louisiana

Apr. 10 - Apr. 17

Lesser Prairie Chicken Festival

Woodward, Oklahoma

Apr. 11 - Apr. 14

Galveston FeatherFest Birding Festival

Galveston Island, Texas

Apr. 11 - Apr. 14

Harney County Migratory Bird Festival

Burns, Oregon

Apr. 12 - Apr. 14

Olympic Bird Festival

Sequim, Washington

Apr. 12 - Apr. 14

Nebraska Prairie Chicken Festival

Burwell, Nebraska

Apr. 13 - Apr. 14

Atlanta Bird Fest

Atlanta, Georgia

Apr. 15 - May 15

Great Texas Birding Classic

Texas statewide

Apr. 15 - May 15

Tucson Bird Count

Tucson, Arizona

Apr. 17 - Apr. 23

Godwit Days Spring Migration Bird Festival

Arcata, California

Apr. 24 - Apr. 27

Spring Chirp

Weslaco, Texas

Apr. 24 - Apr. 28

Birdiest Festival in America

Corpus Christi, Texas

Apr. 25 - Apr. 27

Great Dismal Swamp Birding Festival

Suffolk, Virginia

Apr. 25 - Apr. 28

Stikine River Birding Festival

Wrangell, Alaska

Apr. 25 - Apr. 28

Verde Valley Birding and Nature Festival

Cottonwood, Arizona

Apr. 25 - Apr. 28

Balcones Songbird Festival

Marble Falls, Texas

Apr. 26 - Apr. 28

Verde Valley Birding and Nature Festival

Point Reyes Station, California

Apr. 26 - Apr. 28

Hatchie BirdFest

Brownsville, Tennessee

Apr. 26 - Apr. 28

Birds of the Hill

South Bloomingville, Ohio

Apr. 26 - Apr. 29

Spring Delmarva Birding Weekend

Del Marva Peninsula, Maryland

Apr. 27

Thornapple Woodpecker Festival

Middleville, Michigan

Apr. 27 - Apr. 28

Migration Celebration

Brazoria, Texas

Apr. 27 - Apr. 28

Spring Fling at Whitefish Point

Paradise, Michigan

Apr. 29 - May 2

Birding the Hills with Texas A&M University

Fredericksburg, Texas

Apr. 29 - May 4

New River Birding & Nature Festival

Fayetteville, West Virginia

Apr. 29 - May 4

Little St. Simons Island Spring Birding Days

St. Simons Island, Georgia

May 1 - May 4

Southwest Wings Spring Fling

Sierra Vista, Arizona

May 1 - May 20

Festival of Birds at Point Pelee National Park

Leamington, Ontario

May 2 - May 5

Copper River Delta Shorebird Festival

Cordova, Alaska

May 3 - May 4

Wings and Wetlands Birding Festival

Great Bend, Kansas

May 3 - May 5

Grays Harbor Shorebird & Nature Festival

Hoquiam, Washington

May 3 - May 5

Bird of Prey Days at Braddock Bay

Rochester, New York

May 4

Wings Over Weston

Weston, Missouri

May 4 - May 7

Red Slough Birding Convention

Idabel, Oklahoma

May 5