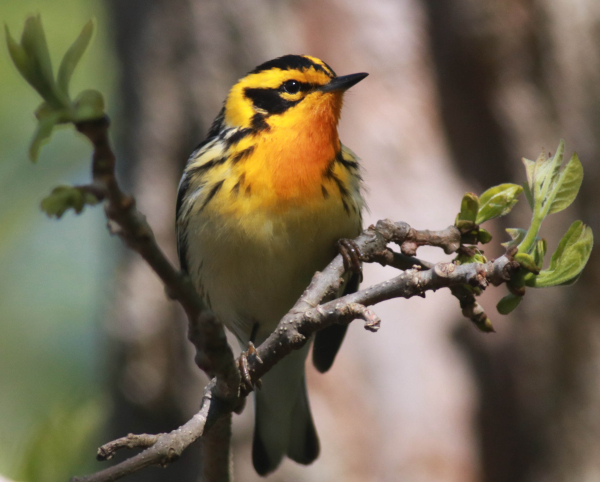 The super-color of a male Blackburnian Warbler beams from a forest perch as the fast shutter speed and morning sunlight yield a stunning image.
A week among the songbirds of Magee Marsh provided a remarkable bird photography recharge, especially for the small neotropical migrant warblers that stopped at this impressive songbird "migrant trap." The almost unlimited photo experiences provided a considerable three-pronged workout – physically, mentally, and even hand to eye exercising, along the southwest shore of Lake Erie.
My way of photographing at Magee and similar locations is to walk slowly, searching for a promising photo subject, or a rare bird I want to try to photograph; then I stick with it for as long as seems productive. I stop and wait, hoping it will forage in my direction; sometimes that works, often it doesn't, but I study the bird and how it behaves, enjoy its form and colors and how it interacts with the landscape; then I search for the next potential photo subject. Sometimes during the waiting period, another bird attracts my attention, or a new bird flies into view, and I shift gears as the birds dictate.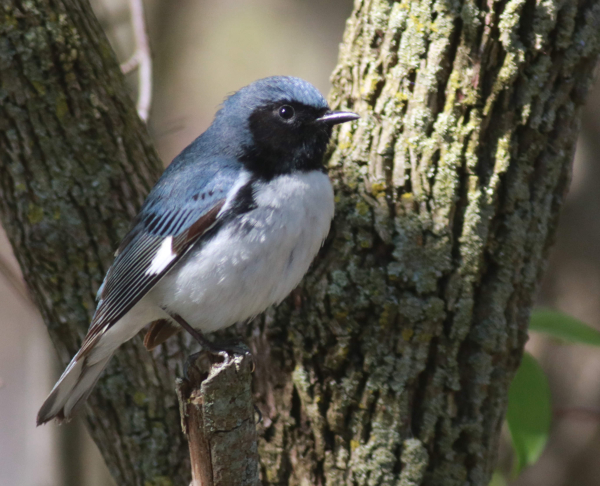 A rare moment of inactivity -- just a moment -- yielded a vertical portrait of a Black-throated Blue Warbler. Usually these birds are horizontal as they search and probe and move quickly through vegetation.
When a songbird is close enough to photograph in good light, I follow the bird through my camera viewfinder snapping a photo when it moves into the open, or taking a series of photos if I'm lucky. In the process it's usually necessary to pull my eye away from the camera when the bird takes a leap or short flight out of my viewfinder; then I refocus on the moving bird when it settles into foraging again. Usually, the warblers are constantly moving so fast! As I follow them, I also try to predict their next movements and where they might pass through an opening in the vegetation. Sometimes this predictive technique works, and sometimes it doesn't, but when it works, there's usually a big payoff.
Sometimes the period I stay with a bird may only last a few moments, or a few photos, before the bird moves on. In the most enjoyable circumstances, I'm able to stay in the company of the bird, following its movements along multiple branches of a tree, or along an extended stretch of habitat. Some of my favorite examples of this type of photo opportunity yielded the photographs of the birds on this page, and many more.
Last Tuesday morning, an extended photo session with a brilliantly colored male Blackburnian Warbler offered an opportunity to follow its movements for more than 10 minutes and provided me with a memorable photo of the episode. Simultaneously at times, I followed the movements of a radiant male Scarlet Tanager that tended to forage a bit higher than the warbler, but to my surprise, the tanager dropped to the ground at one point, searching among moss and leaves, although I managed a better image when it perched against the blue morning sky (you can see that photo in the Editor Afield article in this issue). Another birder described the scarlet plumage as plush, and when I reviewed my photos, I had to agree.
I had a similar experience with a second Blackburnian, but an even longer follow-up with a male Black-throated Blue Warbler. This was a trying experience at times because the "blue" was almost constantly moving, usually behind thin bare twigs that deemed any photo attempts worthless – mostly in the shadows; moving, moving, moving – mostly low or on the ground. But I stuck with it for more than 20 minutes, enjoying the bird itself, appreciating the beauty of the blue dorsal plumage balanced by the white belly and black throat, face and sides – then it flew.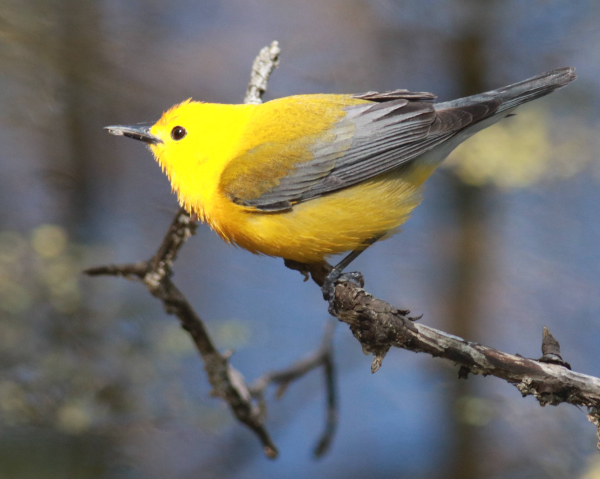 Never imagining an opportunity to follow a Prothonotary Warbler through the swamp, Paul's resulting photo series provided a memorable shared time with such an enigmatic species.
I haven't been around many Black-throated Blues, so I certainly savored these kinds of interactions, and I'm sure I stopped to spend time with each one I encountered. I really appreciate the beauty of the male Black-throated Blues, and that particular episode did a lot to help me to understand the species better. It was especially hard to photograph it beyond the shadows in sunlight, but the 20-minute blue stopped for just a moment to perch upright, turn its head slightly for another photo, then off to the races again. Thankfully, I managed three nice photos as it took an uncharacteristically vertical stance; usually these birds are more horizontal as they search for invertebrates among the twigs, leaves, branches, bushes, and trees.
During these days of migrating songbird photography, I mostly increased my ISO level to the next highest level to gain some shutter speed in somewhat subdued light in the woods. I also reduced my aperture to f5.6, which also provided more shutter speed, but reduced the area in focus so the background of photos blurred and blended to tans and green hues. This technique also tends to highlight the birds, and in some cases it makes the bird "pop" or stand out distinctly from the background. This plan worked well for me throughout the warbler week in the swamp and woodland edges.
My most enjoyable follow-through photo episode was with a rare Prothonotary Warbler, a striking male with a glowing yellow head and breast and subtle olive and gray-blue hues. It likewise stayed low and was constantly on the move. The fact that the Prothonotary male stayed low and even below my positions as it worked from overhanging twig to twig just above the edge of the swamp worked to my advantage. I almost took a break from photographing last Wednesday when the sun was overhead around noon, but with the warbler foraging below the level of the boardwalk, the sunlight illuminated the colorful songbird perfectly, mostly against the tranquil brown water.
The warbler was quick, but sometimes it stretched to reach for a food item, even dipping its beak into the surface of the water at times. In fact, in some of the later photos I took, you can see the feathers above its bill are wet. What a thrill to have an opportunity to observe and photograph such a dynamic tiny songbird for about 25 minutes – and then it was gone.
Throughout most of the time I photographed in the Magee Marsh boardwalk area, I shared such photo experiences with other birders, which was a great birding experience, and a change from my usual solo field trips. I trust my fellow birders were as successful and enjoyed the experience at least as much as I did.
Article and photographs by Paul Konrad
Share your bird photographs and birding experiences at editorstbw2@gmail.com
(Permalink)
May 24 - May 26

Beaver Island Birding Trail Festival, Warblers on the Water

Beaver Island, Michigan

May 24 - June 2

Huron Fringe Birding Festival

Port Elgin, Ontario

May 30 - June 2

Acadia Birding Festival

Somesville, Maine

May 30 - June 2

Dean Hale Woodpecker Festival

Sisters, Oregon

May 30 - June 2

Yakutat Tern Festival

Yakutat, Alaska

May 31 - June 2

Mountain State Bird Discovery Weekend

Davis, West Virginia

May 31 - June 2

Great Adirondack Birding Celebration

Paul Smiths, New York

May 31 - June 2

Northern Landscapes Festival

Grand Marais, Minnesota

June 1 - June 2

Cerulean Warbler Weekend

Hastings, Michigan

June 5 - June 7

Wings Across the Big Sky Bird Festival

Glasgow, Montana

June 6 - June 9

Adirondack Boreal Birding Festival

Hamilton County, New York

June 7 - June 9

Rangeley Birding Festival

Rangeley, Maine

June 14 - June 16

Mono Basin Bird Chautauqua

Lee Vining, California

June 24 - June 28

American Ornithology 2019 Meeting

Anchorage, Alaska